Tolga Caravan Park - Atherton QLD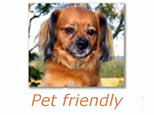 Tolga Caravan Park is located at 6-10 Kennedy Highway at Tolga. There are 20 powered and 25 unpowered sites available for caravans, campers and motorhomes. On site accommodation is also available and may include cabins and on site caravans. We would like to add more information to this description so if you have stayed at this park would you kindly add your own review and comments using the form below. Bookings can be made by telephoning the park and please tell the park that you found them on Caravan Park Photos.
Tolga is not a tourist town. It is a small town utilised largely by farmers and retirees, but it retains a distinct charm that makes it a lovely place to stop for a bite to eat. Tolga has a large horse racetrack, woodworks, post office, pub and primary school. It's a great spot for travellers to stretch their legs and take in some crisp, fresh mountain air.
Photos on this page were kindly supplied by our roving reporter Andre in July 2013 and Lari in March 2017.
REGION: > QLD > Northern > Cairns > Atherton
Photos contributed by our users