Horsham Caravan Park by Glenda Kriesfeld - Horsham VIC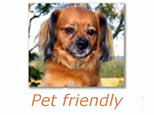 Glenda writes: "Roving gypsy G returned from another enjoyable and educational trip away at the end of April. My choice of town depends on how many local retirement villages and nursing homes are in the area. I found there was ample to keep me busy singing for a couple of weeks at Horsham, so, with the budget in mind, called the Horsham Riverside Caravan Park.
Photos on this page were supplied our roving reporter Glenda Kriesfeld in May 2010.
I decided that I would forego the ensuite site in favour of keeping some pocket money for the laundry etc., and found the price to be reasonable for my stay.
The managers were very nice people who offered information on various town facilities which I could take advantage of during my visit. I even received meal vouchers for the RSL Club. This park is a surprise package!
The walking track by the river was outstanding. It has a sealed path and is relatively smooth for these arthritic knees! Lots of photo opportunities along the way as you will see.
The amenities block, although dated, was always spotless and warm for those coming in from a trek in the cold.
Families take advantage of the lovely playground/BBQ area next door which has easy access from the park.
The Botanic Gardens are beautiful to stroll through from the same access point. Croquet lovers will appreciate the greens close by that are very well kept. Tennis courts are next to the greens for hire to the general public.
The park is on the southern end of Firebrace Street and a five minute walk will see you in the centre of town amongst some great cafes and restaurants. I picked up a couple of trinkets from a beautiful store called Gypsy Willow, where the ladies there were patient with the one who wanted to see everything five minutes before closing!!
I ventured out to Nhill for a day of singing to the seniors, and found myself being photographed for the local paper. A surprise to say the least. I ended up being entertained by the staff, two of whom donned hula skirts and danced to my rendition of 'When I'm Sixty-Four'. That nearly started a riot as the fellow in the skirt, whipped it off to display a pair of striped shorts with a vinyl bottom! What a day!
As well as Nhill, I visited Stawell and Natimuk on my entertaining schedule. Each town has individual points of interest to keep you occupied for quite a while, and if you look hard enough, you will find little out of the way shops or cafes that make your visit that much more worthwhile.
On my last evening, I travelled back to Natimuk, to enjoy the musical stylings of Sharon and Luke. I saw their poster at the newly opened cafe the day before and ventured out for an evening of entertainment. The combination of a jazz pianist and a blues harp player was phenomenal!
Will be travelling back to Horsham in November and will certainly be keeping an eye out for this duo! I've enjoyed this trip so much, I can't wait to return in the warmer months to explore some more and meet more lovely people along the way!"
REGION: > VIC > South Western Victoria > Grampians > Horsham