Austin Tourist Park - Tamworth NSW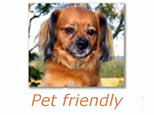 Set on nine acres of gardens and trees, the Austin Tourist Park is your home away from home. With all the facilities of a modern park and no traffic noise the Park offers the traveler a quiet and relaxing holiday.
The entrance to the Park has views of the surrounding hills and the camping and caravan area at the back is adjacent to the Peel River with tranquil rural views.
The Park is only 4 kilometers from the center of town and is close to most local tourist attractions and sporting facilities.
Austin Tourist Park is the winner of the 2001 Hugh Diedrich Award in Tourism.
The resident owners are Frank and Christine Edwards. The park is pet friendly. Bookings can be made by telephoning 1800 826 967 and please let the park know that you have seen their photos on Caravan Park Photos.
REGION: > NSW > Regional NSW > North West Slopes > Tamworth
Photos contributed by our users